iHeart Beatings | Chanell Heart | Jack Hammer
Aug 26, 2015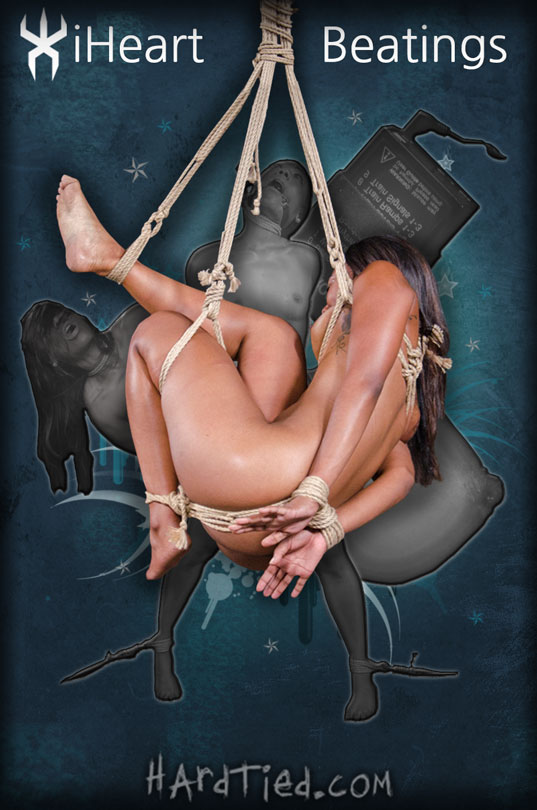 "Pain is the essence of existence." The words are tattooed on Jack Hammer's arm, and they will be etched into Chanell Heart's mind and soul. He'd carve it into her flesh, too, but a body this pretty needs to be covered in other, sexier marks. The thick welts of cane strikes, thin stripes of whip strikes, and soft, diffuse bruises of flogger impacts are going to show on her body for days.

If it's true that pain is the essence of existence then this it explains why Chanell loves these beatings so much. The make her feel alive. They make her feel as though she is being true to herself. Inside she knows that she needs a man to command and control her, to hold her down and tie her up, and use her or abuse her as he wills. She is submissive, all the way to her core, and without a strong hand to discipline her she feels empty and lost. Jack is that hand. He provides her pain. He confirms her existence.
[Archive] The Curious Reporter
| Chanell Heart | Pockit Fanes | Rain DeGrey
Jun 29, 2015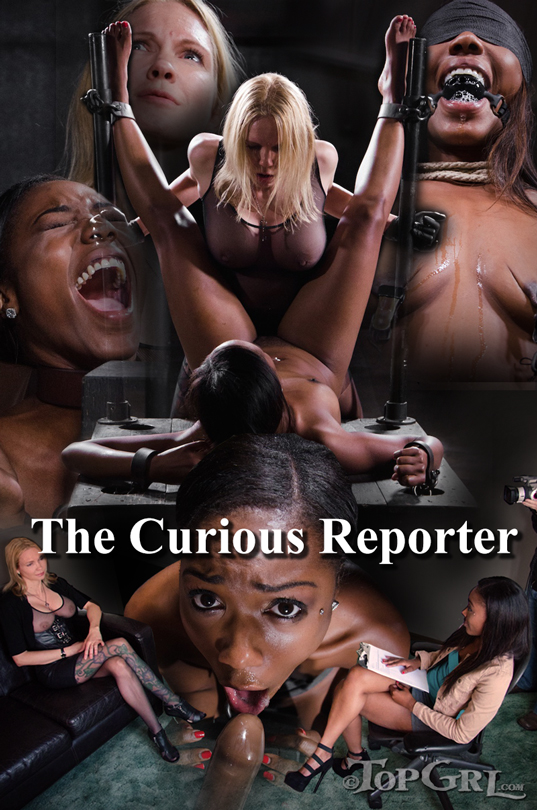 Chanell Heart is a spunky little reporter, looking to do an in-depth story on the sudden cultural obsession with BDSM. She's gone to the famous Rain DeGrey, an expert on the erotic arts, to solicit her opinion. She's learning so much, looking over all of the tools of the trade. She has so many questions about each one of them. What are they for? How do they feel? What kind of woman finds herself attracted to the sensation of pain and the feeling of humiliation.

These aren't things that can just be explained. Rain knows that Chanell isn't just asking for her story. She can read her body language and practically smell the anticipation coming off of her. Chanell doesn't just want to hear about BDSM, she wants to experience it. She doesn't just need to know for her audience, she needs to understand for herself. She has long had these curious feelings about corporal punishment and sex. Rain will clear up any confusion. Chanell's camera man can wait in the car while she works.
Chanell Heart bound doggystyle
and fucked hard from both
ends, epic deepthroat and
multiple orgasms! | Chanell Heart | Matt Williams | Jack Hammer


Apr 15, 2015




Bound bent over and roughly fucked with punishing deepthroat on BBC

Chanell Heart is stunning from the top of her head down to her cute little toes. We have had this one before, but we could not resist bringing her back fro another round, she is just too much fun. Her eagerness and love of the dick is undeniable. Who are we to deny her the dick?

Bound face down, ass up on a custom made wooden bondage that perfectly displays her flawless bubble butt on one end and her well trained mouth on the other end, Chanell is ready to be sexually broken. We step up and do just that. No mercy, no warmup, just straight hardcore brutal rough fucking from both ends by hard cock. The two dicks attempt to shake hands in the middle as Chanell moans and drools.

Her eyes go glassy and the drool pours out as the dick owns her face. 10 inches of BBC pour down Chanell's eager mouth and her tight pussy is pounded own until it is custom fitted. We are not done yet and throw in a vibrator, blasting her off into sexual subspace as she strains futilely in her strict restraints. The bondage, orgasms and relentless tag team cock does the trick on our fucktoy.

We do not stop until Chanell is a heaving sweaty cummed out mess. She sags limply in her bondage as drool pours out of her well fucked mouth, puddling on the floor beneath her. This is the look of Sexuallybroken. Always a pleasure my dear. Until next time...
Stunning Chanell Heart bound
to sybian with brutal drooling
deepthroat and massive
orgasms! | Chanell Heart | Matt Williams | Maestro


Mar 16, 2015




Dark beauty belted down on sybain and face fucked without mercy

Sexy sexy Chanell Heart is a keeper. We can't get enough of her perfect body, cheerful attitude and genuine love of the dick. And we keep rewarding her with just what she craves…strict bondage, massive orgasms and relentless training of her holes. Today we are throwing a sybian at her just to make sure she is properly overwhelmed.

A sybian is the world's most powerful vibrator, on it a pussy does not stand a chance. You WILL cum, you will cum hard, and you will cum over and over again. Throat training is hard. Throat training while you are cumming your brains out is harder still. Today we teach Chanell the value of multi tasking.

A leather collar keeps her head firmly in place over a wooden post as Chanell rides the sybian. She can not move her head away or dodge the dick. All she can do is open her mouth hole wide and hang on for dear life. We introduce rock hard cock directly down the back of her facepussy as Chanell adapts to her new reality. She is a pussy upon her knees.

The strict bondage, blasting orgasms and relentless dick does the trick as she spirals off into sexual subspace. Chanell is blasted, sexually drunk and moaning. This is how you break a bitch. And Chanell looks very very good broken. Always a pleasure my dear...
Chanell Heart dick down
without mercy, brutal
suspension, epic deepthroat
and rough fucking! | Chanell Heart | Matt Williams | Jack Hammer


Feb 27, 2015




Adorably sexy starlet bound with belts and roughly fucked with huge cock

Chanell Heart is the real deal. Her attitude matches her body and she throws herself in everything she does with an undeniable enthusiasm. Even when it gets rough, long after most would tap about, Chanell is still giving it her all. And today will be rough. Just because we like her doesn't mean that we are going to go easy on her.

A long wooden pole keeps her arms spread wide and a leather hood is over her face. Chanell is lead out and chained up to the ceiling before we hike her up to her tiptoes to dance around for us and shake that ample ass. Enough warm up. We bend her over at the waist and chain her neck down to the floor. Time for the main course.

The hood over her head is disorienting, and we fuck that tight cunt for a while as Chanell languishes in darkness before ripping it off so we can see those big eyes. Now both ends are available for fucking and we make full use of that fact. Back and forth the cocks plunge home to the hilt as Chanell moans and cums appreciatively all over the dick.

We are not done yet. It is time for the grand finale. Chanell is yanked up into a brutal suspension and as she dangles in the air we simply walk right up and make full use of that hanging pussy. There is nowhere she can go as we fuck her like a piñata if the dick was a stick. Poor Chanell suffers with every stroke. Too bad for we we love to see this beauty suffer...